OUTDOOR SERVICES AT MUNGER: 9 AM & 11 AM

For the foreseeable future, Sunday worship services will be held outdoors in our parking lot at 9:00 and 11:00 AM, rain or shine*.
*Read below for inclement weather plan.


WHAT YOU NEED TO KNOW
Services are in the main Munger parking lot under the blue sky.
Bring your own camp chair or blanket.
Services are 60 minutes long.
Bathrooms will be open inside if you need them, but otherwise everything will take place outside.
Dress casually.
(Update as of 3/11) The Methodist Church has asked us to continue to observe the Dallas County Covid rules: keep at least 6 ft apart from others at all times and wear a mask when you cannot maintain that amount of distance.
The nice thing about being outside is that you can position yourself as far away from others as you need—take advantage of the space. 6ft apart is the minimum, right?
Please please please respect the space of others and don't be that guy or gal who puts a chair down right next to another family!


WHAT ABOUT INCLEMENT WEATHER?
We are going to meet outside every Sunday at 9 & 11, rain or shine. BUT, on days with inclement weather, we will do a shortened service of about 30 minutes. So, grab your rain gear, pack a blanket, bring a thermos of coffee, and—as it says in 2 Hezekiah, "just suck it up."
Seriously, use the rain as an excuse to tell your kids it builds character. They'll thank you for it.
WHAT ABOUT KIDS?
Each week, during both services, we offer outdoor childcare for ages 1-preK in a safe, enclosed, loving environment. Registration is required and a registration link is sent via email each week.
To sign up for our email list please contact Denisa Odegaard @ denisao@mungerplace.org
With questions about childcare please contact Amanda Pedigo @ pedigoa@mungerplace.org
WHAT ABOUT ONLINE?
For folks who cannot attend in person, we pre-record an entire worship service every week and post it online every Sunday at 9:30 AM. The sermon is also available, via the Munger website and podcast platform, 6 AM on Sunday.
Please do NOT feel pressure to attend an outdoor service if it not wise for your household to do so for whatever reason; take advantage of the prerecorded online service instead.
WHEN WILL WE MOVE INDOORS?
Who knows?
WHAT ABOUT COFFEE?
At this point, it's BYOC and BYOD (doughnuts).
Actually, it's pretty much BYOeverything.
SHOULD I ATTEND IF I'M SICK OR THINK I COULD BE SICK?
If you don't know the answer to that one by now, we have some magic beans to sell you for a great price.
_______________________________________________________________________________________
April 11, 2021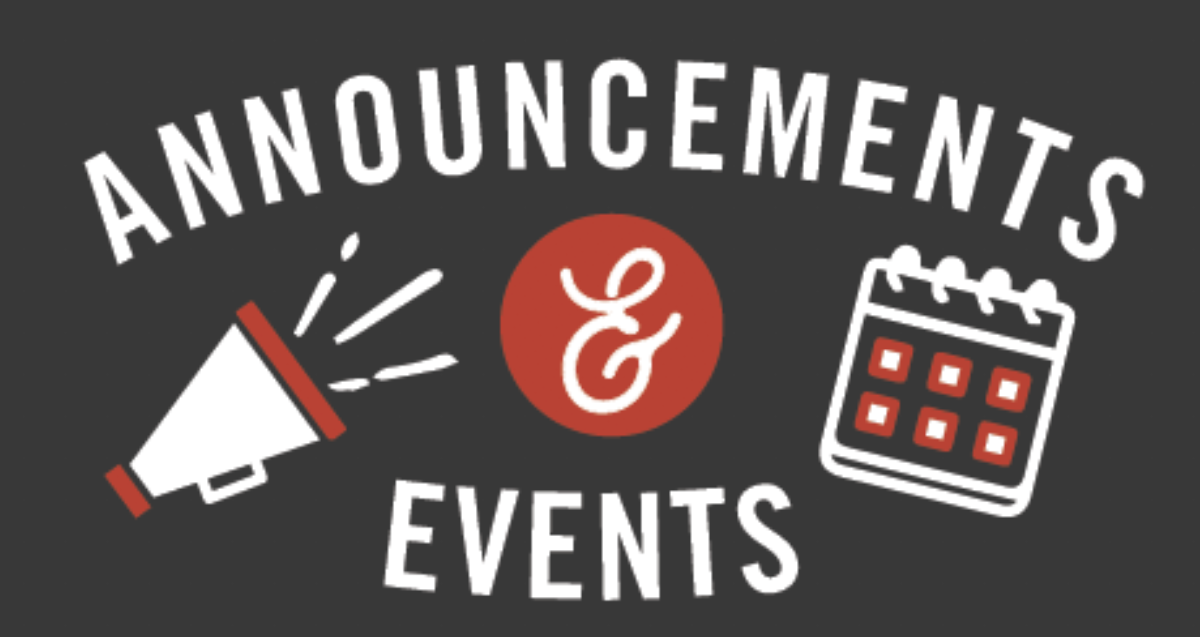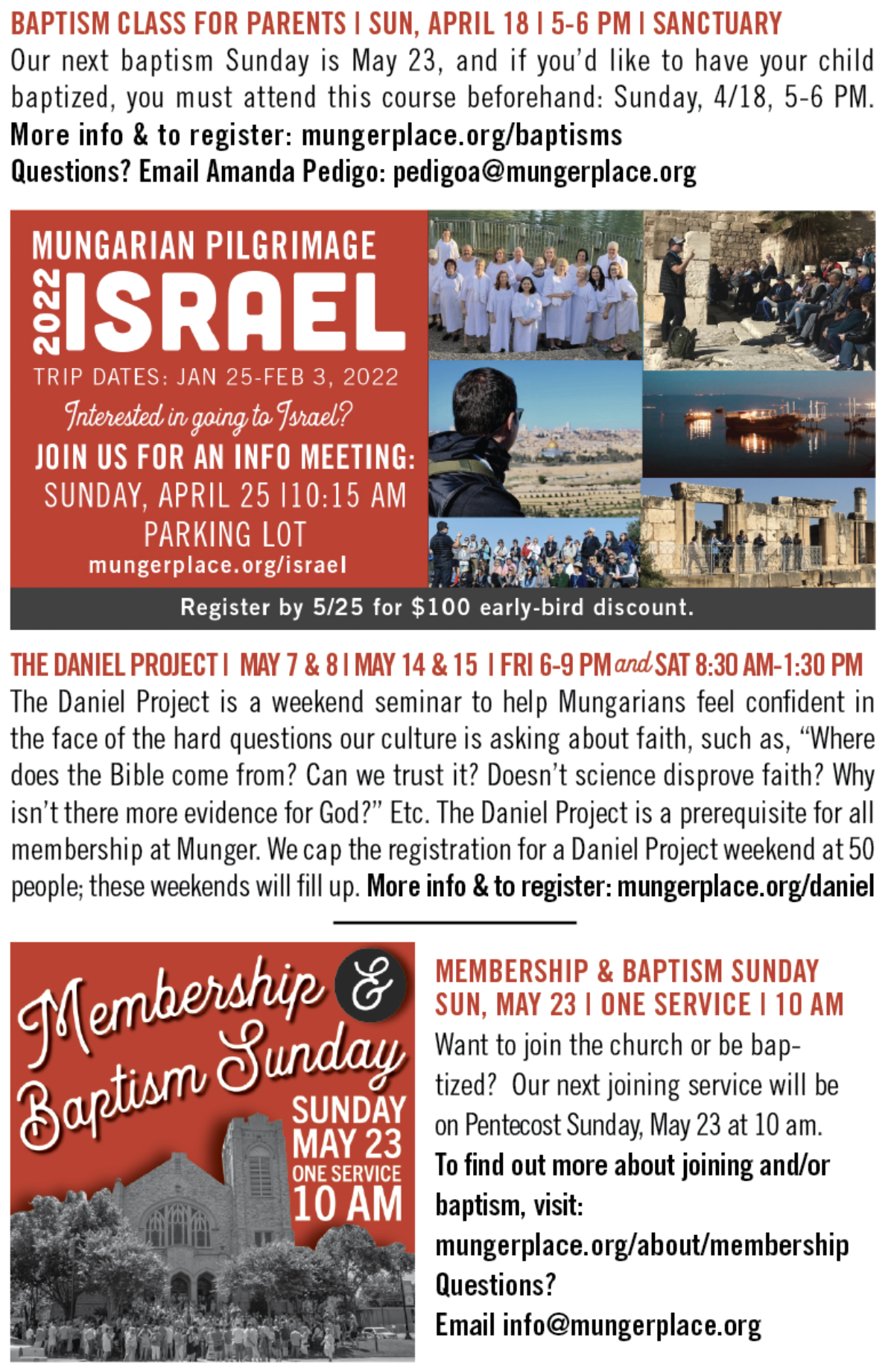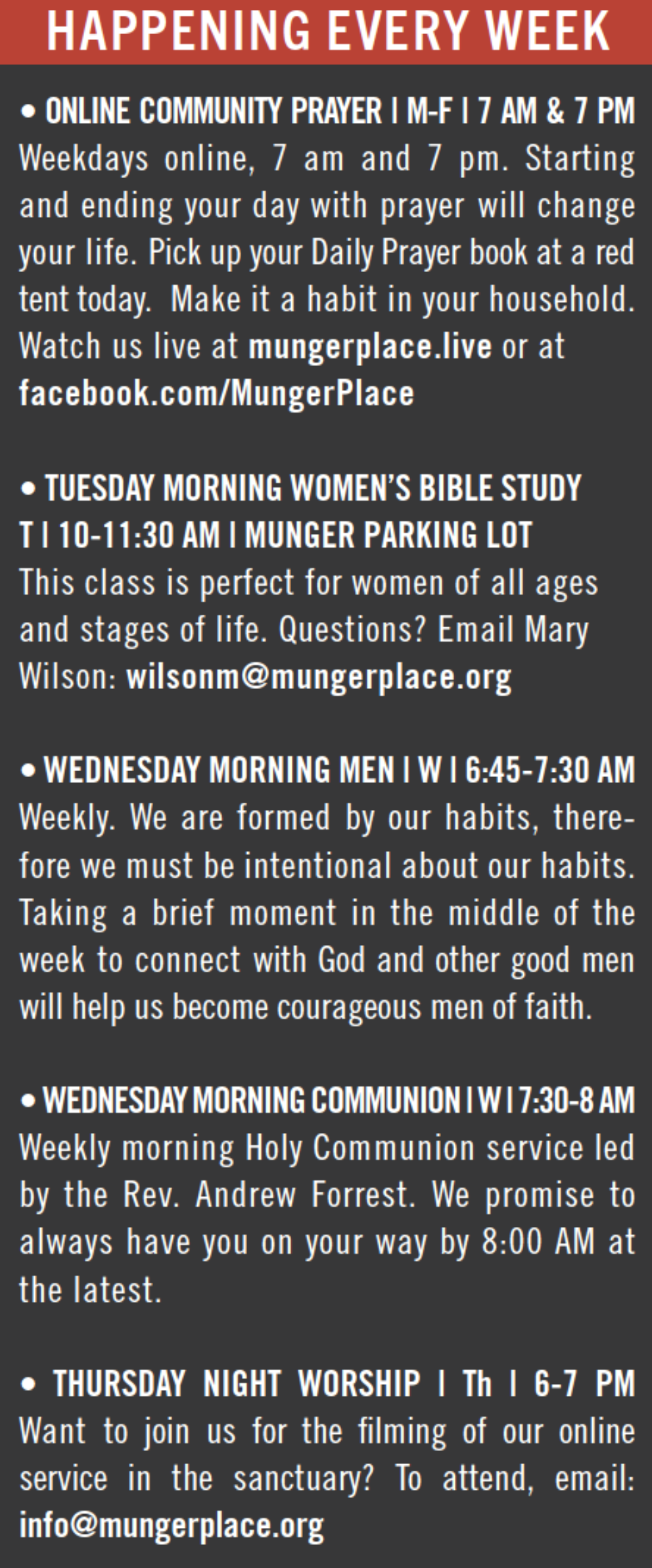 GREETING
Leader: Alleluia! Christ is Risen!
All: He is risen indeed! Alleluia!
SONG LYRICS
RESCUER
There is good news for the captive Good news for the shamed
There is good news for the one who walked away
There is good news for the doubter The one religion failed
For the Good Lord has come to seek and save
He's our rescuer He's our rescuer
We are free from sin forever more
Oh how sweet the sound Oh how grace abounds
We will praise the Lord our rescuer
He is beauty for the blind man Riches for the poor
He is friendship for the one the world ignores
He is pasture for the weary Rest for those who strive
For the Good Lord is the way, the truth and life
Yes the Good Lord is the way, the truth and life
We will praise the Lord our rescuer
We will praise the Lord our rescuer
So come and be chainless Come and be fearless
Come to the foot of Calvary
There is redemption For every affliction
Here at the foot of Calvary
YOUR GREAT NAME
Lost are saved; find their way;
at the sound of your great name
All condemned; feel no shame,
at the sound of your great name
Every fear; has no place;
at the sound of your great name
The enemy; he has to leave;
at the sound of your great name
Jesus, Worthy is the Lamb that was slain for us, Son of God and Man
You are high and lifted up, and all the world will praise Your great name
All the weak; find their strength;
at the sound of your great name
Hungry souls; receive grace;
at the sound of Your great name
The fatherless; they find their rest; at the sound of your great name
Sick are healed; and the dead are raised; at the sound of your great name
Redeemer, My Healer, Almighty
My savior, Defender, You are My King
Redeemer, my Healer, Almighty
My Savior, Defender, You are My King
WHOM SHALL I FEAR
You hear me when I call, You are my morning song
Though darkness fills the night, It cannot hide the light
Whom shall I fear
You crush the enemy, Underneath my feet
You are my sword and shield, Though troubles linger still
Whom shall I fear
I know who goes before me, I know who stands behind
The God of angel armies, Is always by my side
The One who reigns forever, He is a friend of mine
The God of angel armies, Is always by my side
My strength is in Your name, For You alone can save
You will deliver me, Yours is the victory
Whom shall I fear
And nothing formed against me shall stand
You hold the whole world in Your hands
I'm holding on to Your promises
You are faithful, You are faithful, You are faithful

________________________________________________________________________________________
THE LORD'S PRAYER
Our Father, who art in heaven, hallowed be thy name. Thy Kingdom come, thy will be done,on earth as it is in heaven. Give us this day our daily bread. And forgive us our trespasses, as we forgive those who trespass against us. And lead us not into temptation, but deliver us from evil. For thine is the kingdom, the power and the glory, for ever and ever. Amen.
HOLY BAPTISM
Today, on behalf of this child, you shall make vows to renounce the devil and all his works, to trust God wholeheartedly, and to serve him faithfully. It is your task to see that this child is taught, as soon as he is able to learn, the meaning of all these vows, and of the Faith that you will profess as revealed in the Holy Scriptures. He must come to put his faith in Jesus Christ, and learn the Creeds, the Lord's Prayer, the Ten Commandments, and all other things that a Christian ought to know, believe, and do for the welfare of his soul. When he has embraced all these, he is to come to be confirmed, that he may publicly claim the Faith for his own and be further strengthened by the Holy Spirit to serve Christ and his kingdom.
Are you willing and ready to undertake this?
Godparents and Sponsoring Parents: I am, the Lord being my helper.
PROFESSION OF FAITH
Question: Do you renounce the devil and all the spiritual forces of wickedness that rebel against God?
Answer: I renounce them.
Question: Do you renounce the empty promises and deadly deceits of this world that corrupt and destroy the creatures of God?
Answer: I renounce them.
Question: Do you renounce the sinful desires of the flesh that draw you from the love of God?
Answer: I renounce them.
Almighty God deliver you from the powers of darkness and evil, and lead you into the light and obedience of the kingdom of his
Son Jesus Christ our Lord. Amen.
Question: Do you turn to Jesus Christ and confess him as your Lord and Savior?
Answer: I do.
Question Do you joyfully receive the Christian Faith, as revealed in the Holy Scriptures of the Old and New Testaments?
Answer: I do.
Question Will you obediently keep God's holy will and commandments, and walk in them all the days of your life?
Answer: I will, the Lord being my helper.
The pastor, to the congregation: Will you who witness these vows do all in your power to support these persons in their life in Christ?
The Congregation responds: We will.
Let us join with these Candidates to proclaim our faith in the words of the ancient baptismal confession, the Apostles' Creed.
Pastor Do you believe and trust in God the Father?
People: I do. I believe in God, the Father almighty, creator of heaven and earth.
Pastor: Do you believe and trust in Jesus Christ?
People: I do.
I believe in Jesus Christ, his only Son, our Lord.
He was conceived by the Holy Spirit
and born of the Virgin Mary.
He suffered under Pontius Pilate,
was crucified, died, and was buried.
He descended to the dead.
On the third day he rose again.
He ascended into heaven,
and is seated at the right hand of the Father.
He will come again to judge the living and the dead.
Pastor: Do you believe and trust in the Holy Spirit?
People: I do.
I believe in the Holy Spirit,
the holy *catholic Church,
the communion of saints,
the forgiveness of sins,
the resurrection of the body,
and the life everlasting. Amen.
*universal, belonging to the whole
THANKSGIVING OVER THE WATER
THE BAPTISM
Pastor: Let us welcome the newly baptized.
Pastor and People
We receive you into the fellowship of the Church. Confess the faith of Christ crucified, proclaim his resurrection,
and share with us in the royal priesthood of all his people. Amen.
SERMON NOTES
ACTS 16 | PAUL IN PHILIPPI | 13 On the Sabbath we went outside the city gate to the river, where we expected to find a place of prayer. We sat down and began to speak to the women who had gathered there. 14 One of those listening was a woman from the city of Thyatira named Lydia, a dealer in purple cloth. She was a worshiper of God. The Lord opened her heart to respond to Paul's message.15 When she and the members of her household were baptized, she invited us to her home. "If you consider me a believer in the Lord," she said, "come and stay at my house." And she persuaded us….
25 About midnight Paul and Silas were praying and singing hymns to God, and the other prisoners were listening to them. 26 Suddenly there was such a violent earthquake that the foundations of the prison were shaken. At once all the prison doors flew open, and everyone's chains came loose. 27 The jailer woke up, and when he saw the prison doors open, he drew his sword and was about to kill himself because he thought the prisoners had escaped.28 But Paul shouted, "Don't harm yourself! We are all here!"
29 The jailer called for lights, rushed in and fell trembling before Paul and Silas. 30 He then brought them out and asked, "Sirs, what must I do to be saved?"
31 They replied, "Believe in the Lord Jesus, and you will be saved—you and your household." 32 Then they spoke the word of the Lord to him and to all the others in his house. 33 At that hour of the night the jailer took them and washed their wounds; then immediately he and all his household were baptized. 34 The jailer brought them into his house and set a meal before them; he was filled with joy because he had come to believe in God—he and his whole household.

GENESIS 17 | CIRCUMCISION AS THE SIGN OF THE COVENANT | 9 Then God said to Abraham, "As for you, you must keep my covenant, you and your descendants after you for the generations to come. 10 This is my covenant with you and your descendants after you, the covenant you are to keep: Every male among you shall be circumcised. 11 You are to undergo circumcision, and it will be the sign of the covenant between me and you.12 For the generations to come every male among you who is eight days old must be circumcised, including those born in your household or bought with money from a foreigner—those who are not your offspring. 13 Whether born in your household or bought with your money, they must be circumcised. My covenant in your flesh is to be an everlasting covenant.
COLOSSIANS 2 | BAPTISM REPLACES CIRCUMCISION
9 For in Christ all the fullness of the Deity lives in bodily form, 10 and in Christ you have been brought to fullness. He is the head over every power and authority. 11 In him you were also circumcised with a circumcision not performed by human hands. Your whole self ruled by the flesh was put off when you were circumcised by[c] Christ, 12 having been buried with him in baptism, in which you were also raised with him through your faith in the working of God, who raised him from the dead.
ACTS 2 | THE PROMISE IS FOR BELIEVERS AND THEIR CHILDREN | 37 When the people heard this, they were cut to the heart and said to Peter and the other apostles, "Brothers, what shall we do?" 38 Peter replied, "Repent and be baptized, every one of you, in the name of Jesus Christ for the forgiveness of your sins. And you will receive the gift of the Holy Spirit. 39 The promise is for you and your children and for all who are far off—for all whom the Lord our God will call."