Munger Place Church has grown from about 100 people attending one service on a Sunday 5 years ago, to well over 1,000 members and guests each Sunday. As attendance has grown, our need to grow the Coffee Bar supply chain in The Commons was becoming a challenge. We were buying 1,000's of Styrofoam cups, plastic 1-serve creamers, and plastic water cups at Sam's because that seemed to be the cheapest route to keep up with consumption.
One of our new members, John Levison, recently moved here from the Pacific Northwest and reached out to me. He was rather appalled at our copious use of styrofoam; and that we were not recycling anything! As the volunteer who buys the supplies every month, I was actually ashamed and embarrassed.
At home, I am an avid recycler of everything: I use real dishes; real glasses; no bottled water; grow vegetables and fruits year-round; and compost all our waste. How could I be so blind to the massive weekly waste we were creating at the church? This is our neighborhood, our community, our church, and our city. I agreed we should do better. We have been entrusted with being responsible stewards of the financial gifts being provided by our members. That's not just a big responsibility, but a Godly one, right?
As volunteers who have committed to being leaders at the church, aren't we supposed to think beyond the bricks and mortar of the church; be more environmentally aware, and put our money where our mouth is?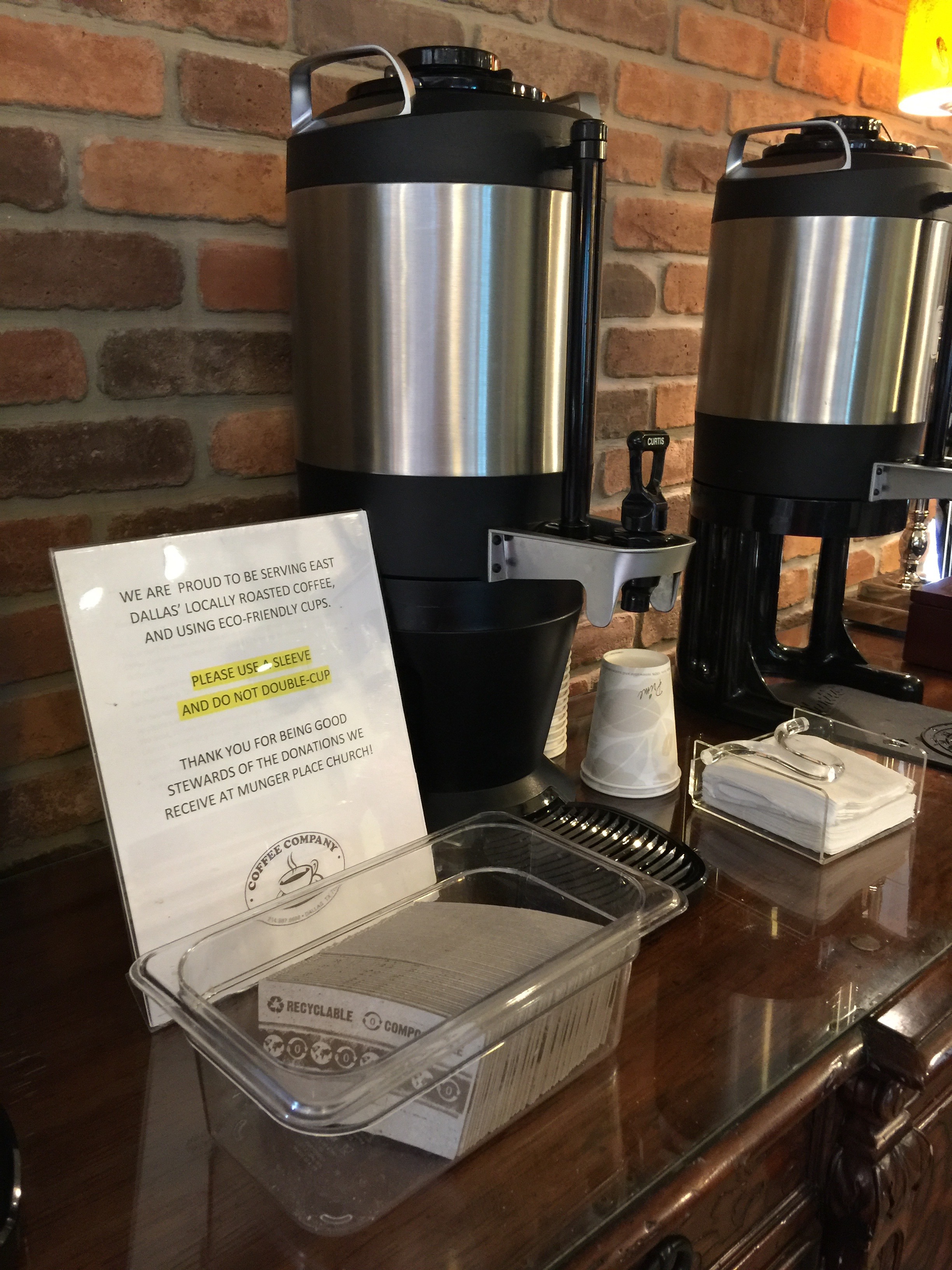 So John put forth a challenge. We knew that the environmental products cost a bit more, so he offered to fund the difference between the styrofoam, and the environmental products that we discovered locally at a small start-up, EcoDallas.
We immediately began ordering compostable coffee cups and water cups. The coffee cups are accompanied with recycled paper sleeves, to reduce the temptation to 'double-cup'. And the packaging is less than what the big box store uses.
I felt so much better about this program. It was quickly followed by a recycle bin for the church. And, many weeks I bring all the coffee grinds home to feed my compost pile, to further reduce waste at the church. But John had really planted a seed.
He said, "There is no point investing the extra money on more environmental products if we are not educating and creating awareness."
So, here we are shouting out to all Mungarians, that we are committed to continuing to reduce our carbon footprint made each Sunday, while still creating a welcoming coffee bar lounge for our visitors.
In the spring of 2016, I began estimating how many single-serve plastic creamers we were using every Sunday. I watched as many coffee drinkers put 3-4 creamers in one cup! I began to see that we were throwing away upwards of 600 creamers each Sunday. So, we are testing the use of half-and-half poured from quarts and stored on ice. We are also buying all of our coffee from The Coffee Company, a local storefront at Skillman-Live Oak that buys and roasts the beans right here in East Dallas; making a Munger Place blend.
So, thank John Levison for his courage to ask questions and help us shake things up. And now, I am going to follow his lead: Next time we have a huge event in Garrett Park or a youth activity, please don't purchase and dispose of 1,000's of styrofoam take-out containers! EcoDallas has a full line of compostable products for catered events.
Keep paying it forward Mungarians.