I wasn't raised in a church, but I believed in God and I believed in the word of the Bible. When I moved to Dallas I knew I wanted to start going to church, but couldn't figure out where to start.
I went to a co-workers wedding, where Andrew Forrest was the minister and I listened to him compare marriage to 7-11's Big Gulp cups. I immediately thought to myself, I want to go to church where that guy's at. So a few months later I decided to try Munger Place Church.
I was hooked.
Three months later, I joined the church and two weeks after that I joined a small group. Even though I only knew three other women in the group, something led me to completely trust them. When it was time to tell my story, I openly revealed that my earthly father had just left my mother for another woman.
The first year was the hardest. I would go periods without even speaking to my dad. I would go from periods of pure anger and rage, to times of complete sadness, believing God was specifically doing this to me.
At the end of that first year, Munger Place celebrated their 5th birthday by doing cardboard testimonies, where members held up signs detailing their hurts and hang ups only to flip them over a few seconds later, revealing how God changed their life. It was in that moment, watching those cardboard signs flip, when I finally realized God was with me. I watched a woman stand in front of an entire congregation telling them that her husband left her family, but she was okay, because God was by her side.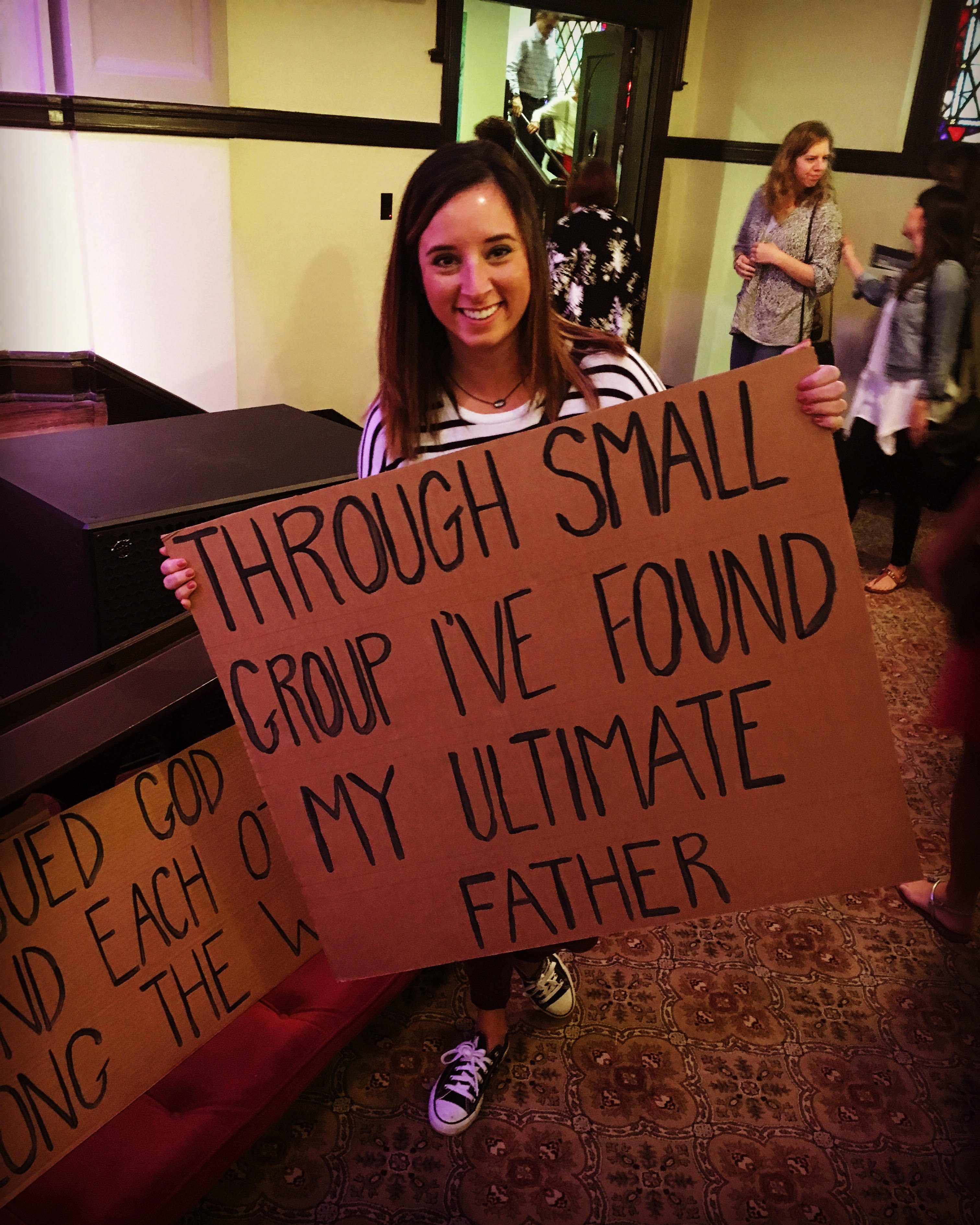 I knew somehow I would be okay too.
I had moments of clarity over the next year that began to heal me. Every week I would go to bible study and learn something new. I had spent an entire year feverishly praying for peace and comfort for my mom and sister, but never for my father or myself, until one lesson taught me that he and I need healing and peace as well. Another lesson showed me that I needed to do everything in my power to maintain a relationship with him.
These women in my small group listened to me week after week talk about the new trials and tribulations in my life. They held my hand when I needed it, guiding me when I couldn't guide myself, pushing me forward to learn and heal from God's word.
Then one day, I received an email from Munger asking if anyone wanted to participate in the cardboard testimonies for 2016. I immediately responded. I thought of how inspirational it was to watch these strangers stand in front of so many people, to be vulnerable, to share their truth, and to help heal others with similar stories. I wasn't exactly sure what I would write on my sign, but I knew I wanted to be up there with the other Mungarians.
On that day, facing the thought of standing in front of the church holding my cardboard sign, I had an epiphany. Sharing my story wasn't just to help others, it was to help myself too. I realized in that specific moment, God's plan was unraveling right before my eyes.
God knew exactly what was about to happen to me. He knew my world was about to be flipped upside down. He knew I was going to struggle and question whether his love for me was real or not. He knew this. He is the reason I went to that wedding. He is the reason I went to Munger Place Church. He is the reason I became a Mungarian the day before I found out my father was leaving my family.
He knew. He knew exactly where I needed to be.
I sat in awe that morning at my new revelation. God is good. He is so good and I hadn't even gone on stage yet.
As I stood in line waiting to go onstage, I watch other people share their stories of loneliness, addiction, and crumbled marriages all healed by God's grace and love. When my turn comes, I hold up my own cardboard sign that reads, "hurt and betrayed by my earthly father." When I turn it over, I hear the congregation start to clap loudly. My sign now says, "through small group, I've found my ultimate father."
When I sat down, I felt this overwhelming feeling of a 20-pound dumbbell being lifted off my shoulders. I have learned more about myself in the last two years than I have my entire 27 years on earth. I have grown more in my faith in the last two years than I ever imagined possible.
Jeremiah 17:7-8 says, "But blessed is the one who trusts in the Lord, whose confidence is in him. They will be like a tree planted by the water that sends out its roots by the stream. It does not fear when heat comes; its leaves are always green. It has no worries in a year of drought and never fails to bear fruit."
I am finding roots in my faith, my family, and most importantly in myself.
Above all, this is my story and my story isn't finished. My healing isn't finished. My roots aren't done growing. My walk isn't over. I will continue to follow God on this journey that he has planned for me, the journey I didn't even see coming.