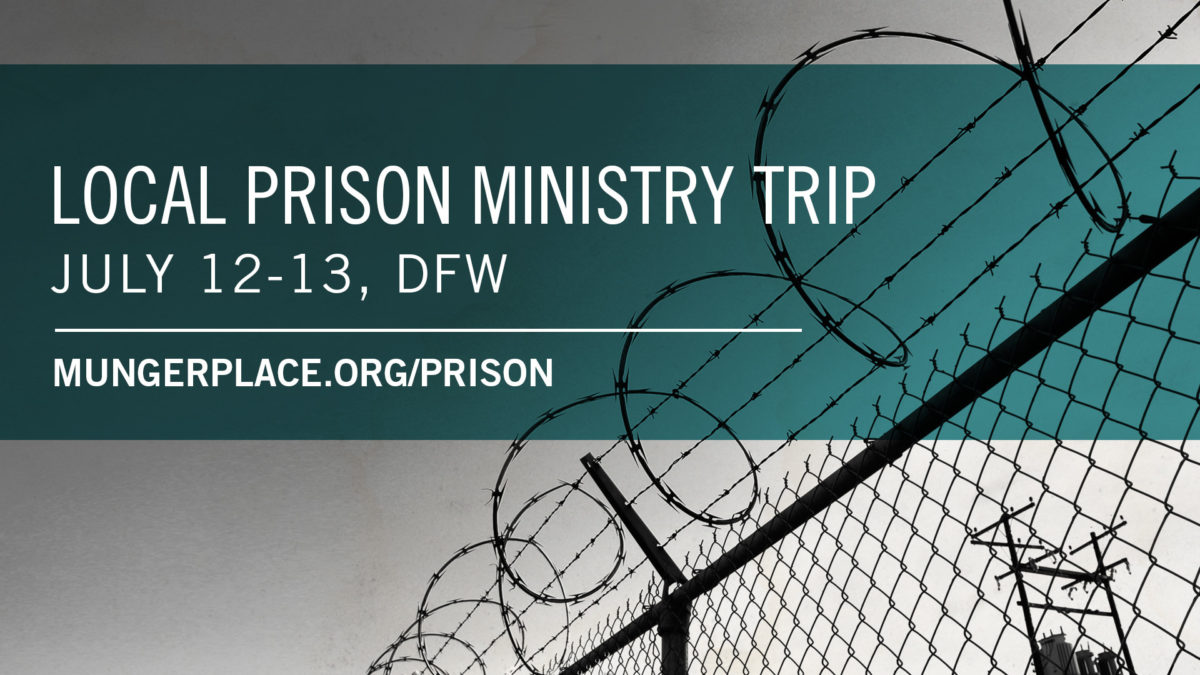 Thanks so much for your interest in Prison Ministry. The July 12/13 local trip is completely full, and Bill Glass Ministries is not accepting any new registrations.

If you are interested in going on a future Prison Ministry trip with us, please reach out to Mary Wilson (wilsonm@mungerplace.org).
Thank you!
---
TRAINING: Friday, July 12 | 5:30 PM | FORT WORTH

SERVING: Saturday, July 13 | DFW Youth Dentention Centers

Cost: $25 Registration Fee
Registration Deadline is June 16!

We are joining Bill Glass Ministries on a local Prison Ministry trip for men & women (18+). We're confident this will be one of the most impactful ministry experiences you've ever been involved in, and we'd love to have you join us.
Questions or Concerns? Email Mary Wilson.
Schedule of Events:
Friday, July 12 @ 5:30 pm
- Bill Glass Ministry Mandatory Orientation (Includes Dinner)
- Beautiful Feet Ministry Center, 1709 E Hattie St, Ft. Worth, TX, 76104
- Drive back home

Saturday, July 13
- Prison Ministry at DFW Youth Detention Centers
- Drive back Home
FAQs
What do we do at the prisons?
Bill Glass Ministry brings volunteers from across the country into prisons and youth detention centers. We will join volunteers from other churches and greet inmates as they enter/exit the special events. We'll have the opportunity to talk in small groups, pray, and share stories with men and women in prison.
Will I be safe inside the prison?
In the 45 years that Bill Glass Ministry has been visiting prisons, they have never experienced an incident that compromised the safety of one of their volunteers. We feel safe going to these events.
What can I wear inside the prison?
Comfortable, close-toed shoes
Casual, modest, and comfortable street clothes that are weather appropriate
Do NOT wear shirts with religious logos or inappropriate messages
Little or no jewelry
What am I required to take to the prison?
Required: Valid driver's license or government-issued picture ID and a ballpoint pen
Optional: Car key/fob, medication (if absolutely necessary)
What about lunches when we're at the prison?
Most facilities provide a meal. As often as possible, we eat with the inmates. The inmates enjoy it, and it provides additional opportunities for witnessing. No outside food is allowed in the facilities, and leaving the facility during mealtimes is typically not allowed.