Our Easter Worship
Rain or Shine! Come and celebrate Easter with us in Garrett Park under the Big Top (Garret Park is located across the street from Munger Place Church). We will have live music and worship, tacos and coffee, and petting zoos and crafts for kids!
April 13 | Stations of the Cross | Anytime between 5 and 8 PM
Experience the darkness and "way of the cross" that Jesus faced in this self-guided tour of the Stations of the Cross. "Follow Me" booklets are available. We will be hosting a blood drive in front of the church during Stations of the Cross. Childcare is provided for infants-preschool. We will be hosting a blood drive during Stations of the Cross in front of the church.
April 14 | 7:00 pm | Childcare is provided
The word "tenebrae" comes from the Latin meaning "darkness." The Tenebrae is an ancient Christian Good Friday service that makes use of gradually diminishing light through the extinguishing of candles to symbolize the events of that week from the triumphant Palm Sunday entry through Jesus' burial. We then leave pondering the impact of Christ's death and await the coming Resurrection on Easter Sunday. Childcare available for infants-preschool.
Good Friday at 8 PM to Easter Sunday at 6:30 AM
Join us for as we pray while Jesus was in the grave. During the day, we will be praying in Garrett Park. Either walking around the tent as we set up for Easter service or in the many sitting areas. At night, pray in the Sanctuary at Munger. We will have overnight security. No childcare is available.
Childcare
For Easter Sunday, our nursery is only available for children ages 0-2 and is located in the basement of Munger Place Church (5200 Bryan Street) directly across from Garrett Park. No reservations are necessary.

Please Note: We will not have Munger Kids Sunday School or Munger Youth. Our kids from elementary, middle and high school are encouraged to spend this special time in worship with their family.

Services are approximately 60 minutes in length—perfect for all of God's children! And we'll have arts and crafts, a petting zoos, tacos and fun!
General Parking
Visitor parking will be in the Munger Place Church lot (5200 Bryan Street) across from Garrett Park.

We encourage regular visitors and members of Munger Place Church to park in our other parking areas, so that we can make it easy for visitors to find space. We will have multiple shuttles running before and after every service to ensure quick and convenient transportation to Garrett Park!
1. Head to the Wells Fargo lot (6301 Gaston Ave) and ride the shuttle with your fellow Mungarians!
OR
2. Park in the Haymaker lot (1520 Greenville Ave) and walk the 1.5 blocks to the park. (we won't have any shuttles running from that lot)
OR
3. Park on the neighborhood streets and walk to the park.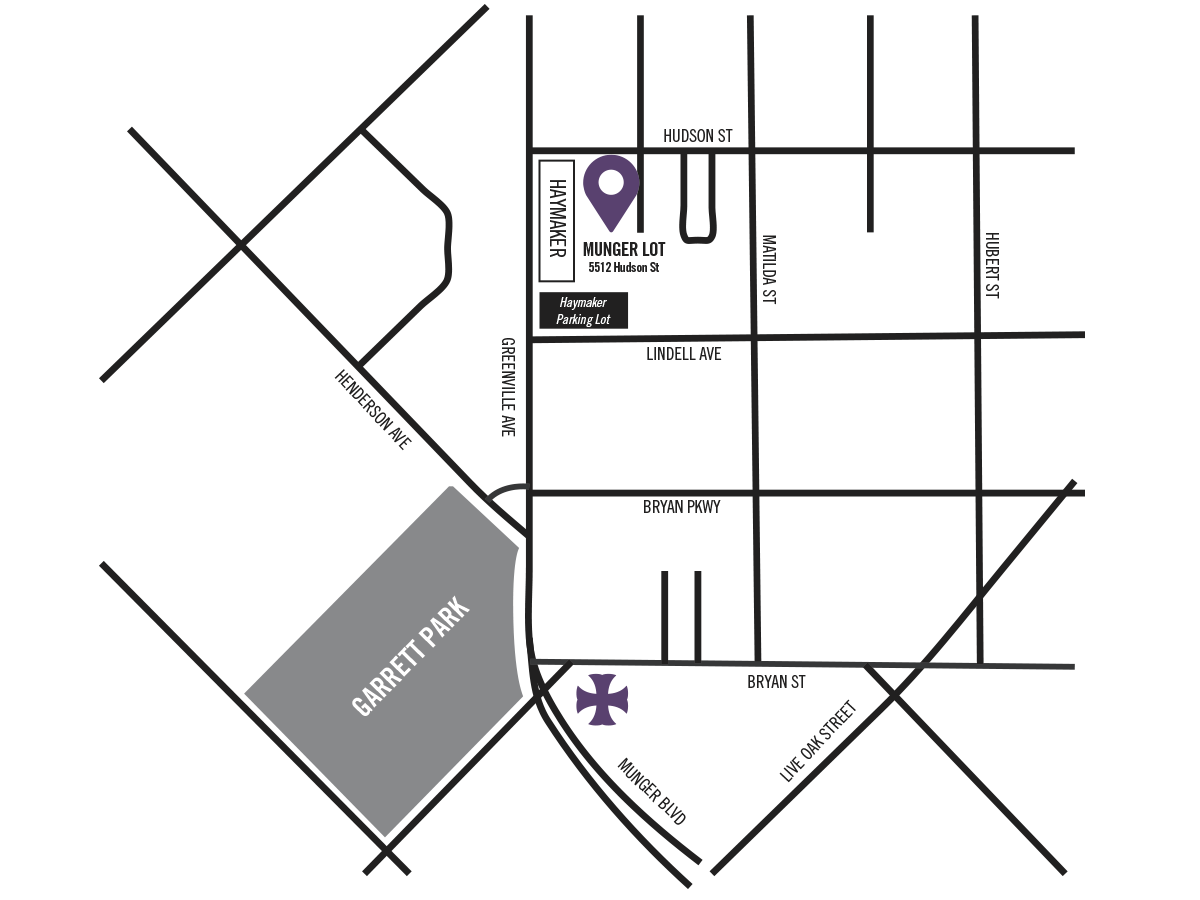 Volunteer Parking
Volunteer parking is in the parking lot off Hudson Street and Greenville Ave. BEHIND the Haymaker parking lot.